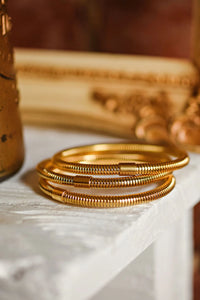 A set of 3 fun, unique bracelets! Very similar in design to the best selling 3 in 1, these bangles have a little stretch to them to easily slide on and off! You can even stack 2 sets of these bracelets to really make a statement. Dress them up or down or wear them with any of our other cuffs- the options are endless!!
Product Details:
18k matte gold plated stainless steel
Approximately 70 mm inner diameter
Tatum James Designs logo
Put on one bracelet at a time and be gentle when taking them on and off
These are not ideal for very small wrists. The size of these bangles is in between the size of the standard and large 3 in 1 bracelet.